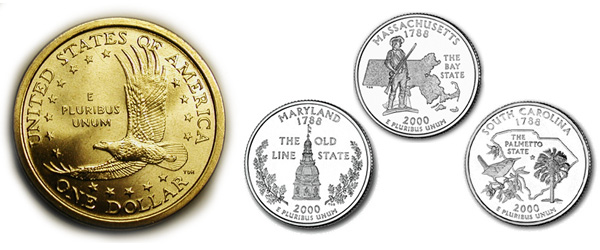 ***Coins not shown in actual size
Pictured here are the four United States Circulating Coins that I was fortunate to have designed and sculpted as a Sculptor / Engraver at the U.S. Mint in Philadelphia, PA.  These were all produced in 2000.
All but one of the Quarter Dollars were designed in conjunction with the various state committees.  The South Carolina committee had sent very few concepts, and they didn't transfer well as medallic topics.  So I asked if I could submit an additional design with the Carolina wren,Carolina Jessamine, Palmetto, and an outline of the state.  That is the design they chose.
The "Golden Dollar" was an open design competition that drew 123 entries.  I had one design favored by the Treasury Department, and another design favored by the Fine Arts Commission.   I was asked by the Secretary of the Treasury, Robert Rubin to provide several variations of the originally favored design, and the one that was issued in 2000 is the one he chose.
My family and I attended the unveiling of the Golden Dollar designs at the Whitehouse on May 4, 1999, where we were greeted in the Diplomatic room by Hillary Clinton.  Glenna Goodacre, who designed and sculpted the portrait of Sacagawea and Baptiste on the Obverse of the Golden Dollar, was also in attendance with her family.
This was a real highlight of my career, as I believe it was an honor and a privelege to have held the position of a U.S. Mint Sculptor / Engraver, and had the opportunity to create historical Comemmorative Coins, Medals, Circulating and Bullion Coins.