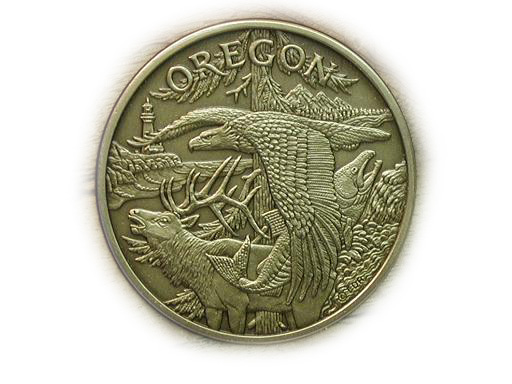 Pictured here is a montage of some of the outstanding wildlife encountered in the state of Oregon. A Bald Eagle, Elk, and Salmon.  In the backgound, you can see one of the many costal lighthouses, and mountains which symbolize the "Three Sisters Wilderness".   The medal emphasizes the beauty and life that abound here.   A Douglas fir rises up throughout the design and caresses the name "OREGON".
Also shown here is the manner in which I have chosen to market these medals.  I call them "MEDALS N' MYRTLEWOOD".   Myrtlewood is a very hard and beautifully grained wood that grows mostly in Israel, and on the Oregon coast.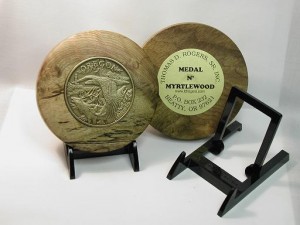 The medals are 2 1/2″ in diameter, and are set into 3 1/2″ Myrtlewood rounds.   Each comes with it's own min-easel for display.
The complete description, and purchasing information, as well as other "Medal N' Myrtlewood" creations can be seen at: www.oregonsouvenirs.com